Hello, there.
Where should I start ? I'm not comfortable with formal presentations, I don't think I've ever been a "formal" type of girl. Anyway, let me introduce myself: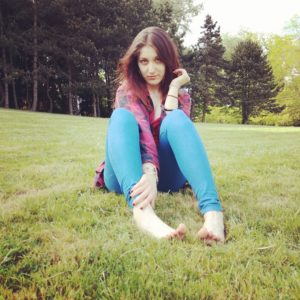 I'm Trish. I'm a French carefree young woman of 25. I live somewhere in the least appealing areas of this old country that is France. I grew up here, in a working-class family. I was a nice child who loved dinosaurs and sea-creatures, drawing animals, watching those crazy 90's cartoons, and roaming the streets on rollers when the summer nightsky looked like a giant popsicle made of red, yellow and blue. I was a little lonely stray cat. I listened to old rock music, played N64 a lot. And time flew, and i grew into a rebel teen with few friends and no self-confidence. Once again, years passed by very quickly until i went to college and discovered freedom for the first time in my life. These days spent drinking under the sun without giving a shit about the past or the future are among my happiest memories. And here i am today, a romantic woman who found peace in the revelation of love some years ago.
So how did that little girl become a foot model ? I discovered this niche through my ex-boyfriend, who had a foot fetish himself. Long story short, i happened to find out there were pretty girls out there sharing their beauty to the world in the intimacy of their room, making people daydreaming through their pictures, earning money with videos for some of them. And i thought "why not ?" This is how Trish was born – a very silly idea turned into a whole project. I want to be part of your life, and make you dream…
Of course, i like what i do. I'm trying to make my videos as perfect and good-looking as possible, but it's no easy task. I still have hope that one day i may become wide-known enough to do anything i would like to do with my life, and with this project.
By the way, if you want to see more of my work, check out my latest vid :
Latest-vid.trish-collins.com
  Thank you for supporting me, and thank you for following the work i put so much energy onto. You're making all of this possible !
Love.
 Trish.