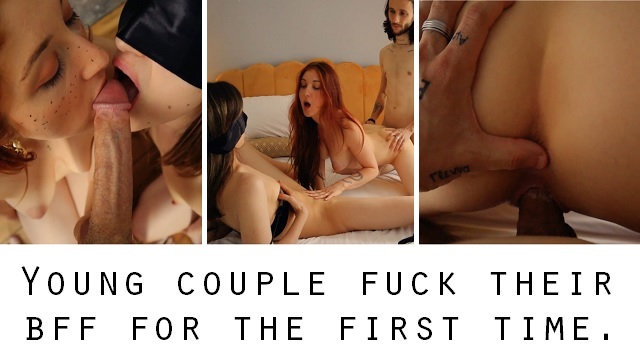 THREESOME – Young couple fuck their BFF for the first time.
My BFF July wants to try her first ever threesome with us. On this special day, I call her before she comes home; I can't wait to see her all dressed up for us and have fun with her. I blindfold her, and we join Kern in the living room for some teasing. We get turned on pretty quick, and after the laughter and awkwardness, we both kneel before him and give him a double blowjob.
He loves watching us kissing around his dick. After a while, I suggest going to the bedroom, where July and I take turn in letting Kern take us both while we eat each other out. There are wet kisses, fingering, pleasure, tenderness, fun, hands touching flesh here and there, and a big climax from me.
My man is horny at the sight of two girls enjoying themselves, and July is thrilled at all these things she can feel but can't see. Then, we give Kern a second double-blowjob before he comes in our mouths. Also contains POV.
Kern and I went to Paris on this nice summer of 2020 to meet our friend July November. It was a nice trip with restaurants, walks around the Eiffel tower, and sex. We've had a great threesome; one of my first, actually. It was an interesting video to shoot and a great experience! I'm happy to give you this genuine amateur video and hope you will enjoy it because we loved making it. xx
Let's celebrate my first ever M/F/F threesome with Kern and July! We hope you'll enjoy it. Get it while you can!